Peel Law Association - Latest News
Posted by Peel Law Association on 26 May 2023
Check out this resource in the PLA Library!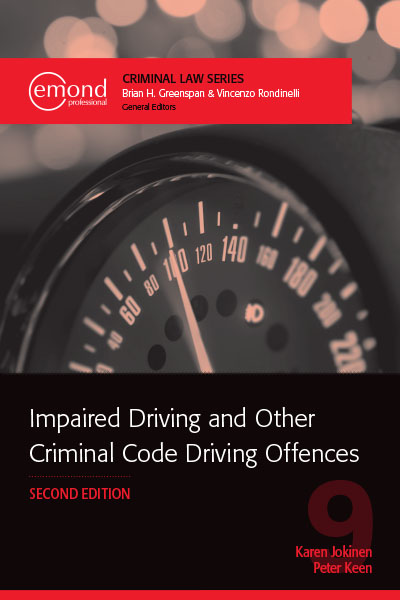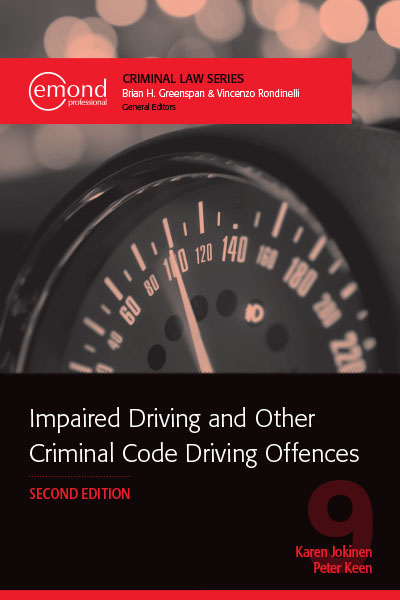 Impaired Driving and Other Criminal Code Driving Offences, 2nd Edition
by Karen Jokinen and Peter Keen
Published: March 2023 by Emond Publishing
TABLE OF CONTENTS
Chapter 1: Legislative Changes and Sequence of a Drinking and Driving Case
Chapter 2: 80 and Over: Section 320.14(1)(b)
Chapter 3: Drug Per Se Limits
Chapter 4: Impaired Ability to Operate
Chapter 5: Fail or Refuse Screening Demand: Section 320.15(1)
Chapter 6: Operating While Prohibited
Chapter 7: Dangerous Driving
Chapter 8: Criminal Negligence
Chapter 9: Flight from Police
Chapter 10: Fail to Stop at Scene of Accident
Chapter 11: Aggravated Driving Offences: Causing Death or Bodily Harm
Chapter 12: Reviewing the Brief & Disclosure
Chapter 13: Conveyances
Chapter 14: The Stop
Chapter 15: Operation vs Care or Control
Chapter 16: Roadside Screening Demands
Chapter 17: The Arrest and Evidentiary Demands
Chapter 18: Proving Blood Alcohol Concentration Through Breath Samples: Approved Instruments and Certified Evidence
Chapter 19: Drug Impaired Driving
Chapter 20: Blood Demands and Hospital Interactions
Chapter 21: Custody, Detention, and the Charter
Chapter 22: Common Law Defences
Chapter 23: Sentencing
Chapter 24: Rights to Counsel: Section 10(b) of the Charter
Chapter 25: Charter Remedies: Section 24(2)
Chapter 26: Conclusion: Future of Driving Offences in Canada
To learn more about this resource, click here.
---
This item is available to PLA Members in good standing for sign-out. PLA Members can sign-out up to three items for overnight use for a seven day period. Overdue charges may be applicable to items that are not returned by their due date.
If you are interested in signing out resources from the library, submit a book request to PLA library staff!
---
Not a member, but looking to become one? Please follow the link for the Membership Form and Fees. You may also contact the PLA Library Staff by email, and they will be happy to assist you. It only takes moments to join, and the PLA Library Staff can process memberships on the spot. Once payment is received, you can take advantage of all your PLA Membership Benefits, including discounts on CPD programs and social events.
As a friendly reminder, the Peel Law Association Library, Lawyers' Lounge and related services are open to all lawyers who are in good standing with the LSO, articling students, and LPP candidates.