Peel Law Association - Latest News
Posted by Peel Law Association on 5 August 2021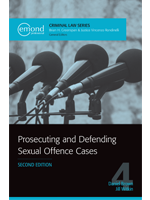 Continue to watch this space for promotions highlighting one of the books recently added to the PLA Library collection, as well as old favourites we think may be of interest to our PLA Library users.
Today's spotlight is on the book, Prosecuting and Defending Sexual Offence Cases, 2nd Edition by Daneil Brown and Jill Witkin.
Published: August 2020 by Emond.
This bestseller is designed to help practitioners focus on the procedural, evidentiary, and strategic elements specific to sexual offence cases. These elements include search issues, children's evidence, cross-examination on private records, and sentencing. Read more.
TABLE OF CONTENTS
Chapter 1: Initial Considerations
Chapter 2: Sexual Offences
Chapter 3: Search Issues
Chapter 4: Publication Bans
Chapter 5: Protections for Victims and Witnesses
Chapter 6: Preparing for the Preliminary Inquiry
Chapter 7: Evidentiary Issues
Chapter 8: Children's Evidence
Chapter 9: Expert Evidence
Chapter 10: Forensic Evidence
Chapter 11: Production of Third-Party Records: Section 278.3
Chapter 12: Cross-Examination on Private Records: Section 278.92
Chapter 13: Evidence of Other Sexual Activity: Section 276
Chapter 14: Consent
Chapter 15: Historical Offences
Chapter 16: Sentencing
Chapter 17: Representing the Victim in a Sexual Offence Proceeding
This item is available to PLA Members in good standing for signout. PLA Members can signout up to three items for overnight use for a seven day period. Overdue charges may be applicable to items that are not returned by their due date.
For a full listing of all of the new items added to the PLA Library Collection, please watch for your next issue of Peel Briefs (for PLA Members Only) or take a look at the New Books list for the current calendar year published in the Members' Corner.
---
Not a member, but looking to become one? Please follow the link for the Membership Form and Fees. You may also contact the PLA Library Staff by email, and they will be happy to assist you. It only takes moments to join, and the PLA Library Staff can process memberships on the spot. Once payment is received, you can take advantage of all your PLA Membership Benefits, including discounts on CPD programs and social events.
As a friendly reminder, the Peel Law Association Library, Lawyers' Lounge and related services are open to all lawyers who are in good standing with the LSO, articling students, and LPP candidates.
---
| | |
| --- | --- |
| | FOLLOW US ON: |