Peel Law Association - Latest News
Posted by Peel Law Association on 18 November 2020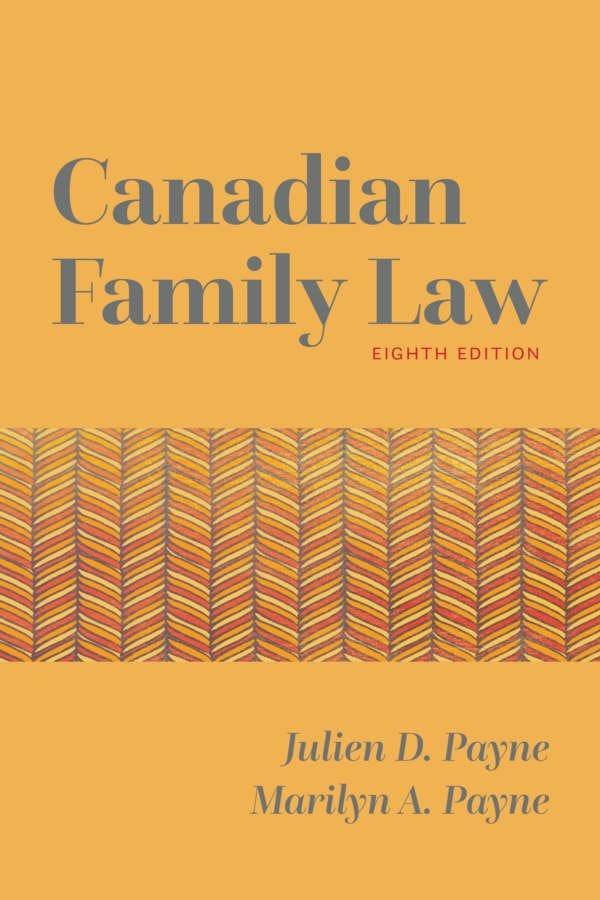 Continue to watch this space for promotions highlighting one of the books recently added to the PLA Library collection, as well as old favourites we think may be of interest to our PLA Library users.
Today's spotlight is on the book, Canadian Family Law, 8th edition by Julien D. Payne and Marilyn A. Payne. This text is a companion volume to Child Support Guidelines in Canada, 2020 (Payne and Payne) that is also in the PLA Library collection. Both titles are available for borrowing by current PLA Members in good standing.
Published: August 12, 2020 by Irwin Law.
Click here for more information about this title.


TABLE OF CONTENTS
Preface
Acknowledgements
Chapter 1: Family Structures and Canadian Family Law
Chapter 2: Marriage
Chapter 3: Cohabitational Relationships
Chapter 4: Domestic Contracts
Chapter 5: Family Violence
Chapter 6: The Crises of Marriage Breakdown and Processes for Dealing with Them
Chapter 7: Divorce: Jurisdiction; Judgments; Foreign Divorces; Grounds for Divorce; Bars
Chapter 8: Spousal Support on or after Divorce
Chapter 9: Child Support on or after Divorce
Chapter 10: Parenting Arrangements after Divorce
Chapter 11: Appeals
Chapter 12: Remedies Available under Provincial and Territorial Legislation
Chapter 13: Matrimonial Property Rights
Table of Cases
About the Authors
Please be aware that the PLA Library stacks are currently closed for browsing and are only accessible to PLA Library staff. Please click here for information regarding how to access materials, borrowing privileges and our new late fee policy. If you only wish to browse items within the PLA facilities, you must complete a PLA Workstation Reservation Form prior to coming to the PLA facilities to ensure that you will have a workstation to use while here. Requested items for browsing will be prepared and placed at your workstation prior to your arrival.
This item is available for signout from the PLA Library to PLA Members only. You may borrow this item for one week (seven days).
Non PLA members are welcome to use this item in the PLA Library, but signout and borrowing privileges are limited to current PLA Members in good standing.
For a full listing of all of the new items added to the PLA Library Collection, please watch for your next issue of Peel Briefs (for PLA Members Only) or take a look at the New Books list for the current calendar year published in the Members' Corner.
---
Not a member, but looking to become one? Please follow the link for the Membership Form and Fees. You may also contact the PLA Library Staff by email, and they will be happy to assist you. It only takes moments to join, and the PLA Library Staff can process memberships on the spot. Once payment is received, you can take advantage of all your PLA Membership Benefits, including discounts on CPD programs and social events.
As a friendly reminder, the Peel Law Association Library, Lawyers' Lounge and related services are open to all lawyers who are in good standing with the LSO, articling students, and LPP candidates.