Book Spotlight - October 2017
Posted by Peel Law Association on 3 October 2017
Motions Court Practice and Procedure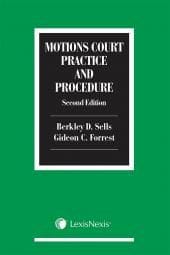 Continue to watch this space for promotions highlighting one of the books recently added to the PLA Library collection, as well as old favourites we think may be of interest to our PLA Library users.
This week, the spotlight is on the book, Motions Court Practice and Procedure - 2nd ed. Berkley D. Sells and Gideon C. Forrest, which was recently added to the PLA Library Collection.
From the Publisher
Successfully navigating the ins and outs of motions court is an essential element of every litigation lawyer's practice.
On July 1, 2015, the Superior Court of Justice's new Consolidated Practice Direction for Civil Actions, Applications, Motions and Procedural Matters in the Toronto Region came into effect. The second edition of Motions Court Practice and Procedure focuses on some of the key changes in motions scheduling and offers current, practical guidance on bringing and responding to motions in Ontario.
Useful reference for anyone preparing for and conducting motions
Co-authored by two seasoned and respected litigators, this guide features strategy, tactics, tips and practice pointers for effectively preparing for and conducting motions in Ontario. It provides detailed explanations of:
When and where to file the necessary materials
Sample precedents providing illustrative examples of motion materials
Guidance on dealing with urgent motions and special circumstances
A review of how to deal with the costs of motions

Published: June 13, 2017 by LexisNexis

From the Table of Contents
Part I Commentary
Motions: Background and Overview
1. Place of Motion
2. Judge, Master or Registrar? Jurisdiction over Motions
3. "Over-the-Counter" Motions
4. Drafting Notices of Motion
5. Affidavits
6. Solicitor's Certification in Lieu of an Affidavit
7. Scheduling Motions in Toronto
8. Scheduling Motions Outside Toronto
9. Motion Records
10. Timing on Motions Minimum Notice Period
11. Facta
12. Book of Authorities
13. Serving and Filing Motion Records, Facta and Books of Authorities
14. Confirmation of Motion
15. Time Estimates
16. Confirming the Motion is on the List and Who is Sitting Toronto
17. Endorsements and Draft Orders
18. Over-the-Counter Orders
19. Settling Motions
20. Cancelling or Adjourning Motions
21. Costs on Motions
22. Incivility and Civil Motions
Part II Appendices

This item is available for signout from the PLA Library to PLA Members only. You may borrow this item for one week (seven days). Non PLA members are welcome to use this item in the PLA Library. For a full listing of all of the new items added to the PLA Library Collection, please watch for your next issue of Peel Briefs (for PLA Members Only).
Not a PLA member, but looking to become one? Please follow the links for the Membership form, fees, and a full list of PLA Membership Benefits. You may also contact the PLA Library Staff by email, and they will be happy to assist you. It only takes a few moments to join, and the PLA Library Staff can process memberships on the spot. Once payment is received, you can take advantage of all your PLA Membership Benefits, including circulation privileges.
As a friendly reminder, the Peel Law Association Library, Lawyers' Lounge and related services are open to all lawyers who are in good standing with the LSUC, articling students, and students-at-law.

Author:
Peel Law Association
About: Established in 1947, the PLA exists to promote, protect and advance the interests of its members by providing resources to enhance the practice of law. The PLA advocates for its members' interests as lawyers, which can impact justice issues that can affect the residents of Peel Region.