Posted by Peel Law Association on 30 June 2017
The Court and the Constitution: A 150-Year Retrospective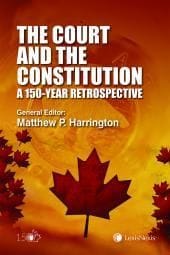 Continue to watch this space for promotions highlighting one of the books recently added to the PLA Library collection, as well as old favourites we think may be of interest to our PLA Library users.
To celebrate the 150th birthday of Canada, this week the spotlight is on the book, The Court and the Constitution: A 150-Year Retrospective by Matthew P. Harrington, which was recently added to the PLA Library Collection.
From the Publisher
This unique collection of papers focuses on the role of the court in the development of three areas: Canadian Federalism, the Charter of Rights, and Private Law.
Insightful perspectives. Thorough and well-researched review of jurisprudential developments. Contributions from leaders in a variety of capacities in the legal community, including academia and practitioners
Published: May 16, 2017 by LexisNexis
From the Table of Contents
The collection of papers:
Introduction by the Editor
PART I: THE STRUCTURE OF FEDERALISM
The Supreme Court and Parliament: Evolving Roles and Relationships Lorne Neudorf
The Supreme Court and the Conventions of the Constitution Leonid Sirota
From Subservient Officers of the Crown to Independent Servants of the People: The Supreme Court of Canada's Perceptions of Itself Adam Dodek
The Court and Administrative Law: Models of Rights Protection Paul Daly
L'allégorie d'une Cour suprême complice de trudeauisme: relecture des prismes de l'arrêt Ford Fréderic Bérard
Speakers, Witnesses and Blanketing: The Need to Look Beyond the Courts to Achieve Reconciliation Sarah Morales
Aboriginal Title in the Supreme Court of Canada Cherie Metcalf
PART II: THE CHARTER OF RIGHTS
"A Principle of Vital Importance": The Supreme Court of Canada's Approach to Purposeful Limits on Expression in Section 2(B) Peter Carver
The Court and Freedom of Religion Howard Kislowicz
Of Promise and Peril: The Court and Equality Rights Daphne Gilbert & Jena McGill
Fundamental Justice Mark Carter
Language Rights and the Political Compromise Doctrine Matthew P Harrington
PART III: PRIVATE LAW & COMMERCE
The Supreme Court of Canada and the Law of Tort Lewis Klar
Property Law and the Supreme Court: Of Gardens and Fields Bruce Ziff
The Supreme Court on the Relationship Between the General Law and Collective Labour Relations Regimes: 1875-2016 Finn Makela

Not a PLA member, but looking to become one? Please follow the links for the membership form, fees, and a full list of PLA Membership Benefits. You may also contact the PLA Library Staff by email, and they will be happy to assist you. It only takes a few moments to join, and the PLA Library Staff can process memberships on the spot. Once payment is received, you can take advantage of all your PLA Membership Benefits, including circulation privileges.
As a friendly reminder, the Peel Law Association Library, Lawyers' Lounge and related services are open to all lawyers who are in good standing with the LSUC, articling students, and students-at-law.