MEMBERSHIP RENEWALS DUE NOW! 2021
Posted by Peel Law Association on 7 December 2020
2021 Membership Renewals DUE NOW!
Personalized 2021 Membership Renewal packages were distributed electronically to all current 2020 PLA Members on Friday, December 4, 2020.
Current PLA members will continue to receive benefits and discounted services until January 31, 2021 including borrowing privileges.
NEW! Membership Benefits of 2021...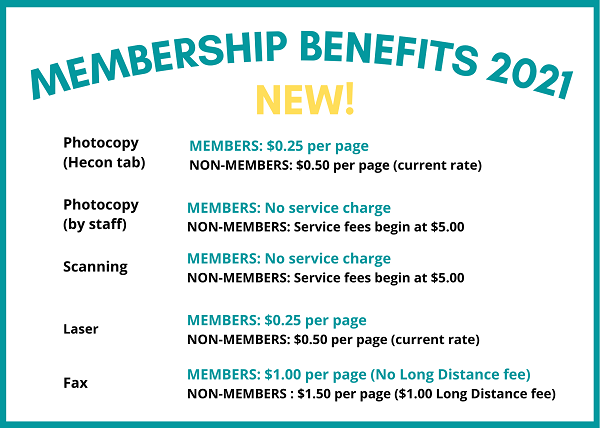 Didn't receive a 2021 Membership Renewal package?
Please contact the PLA Library by Email or Telephone (905-451-2924) for direct assistance.
Not a Member but looking to become one?
Follow this link to download and complete a fillable 2021 Membership Form. (The forms may be printed or completed electronically. If you complete the electronic form, remember to enable editing and save changes before emailing the document to the PLA staff) ORFollow this link to complete the 2021 Membership Form and pay online.
CLICK HERE to see our full list of PLA Membership Benefits!
If you have any questions or concerns regarding 2021 New Membership, please contact the PLA Library by Email or Telephone (905-451-2924)
---
Different phone number? New last name? Moved law offices?
PLEASE NOTIFY THE PEEL LAW ASSOCIATION OF ANY CHANGES TO YOUR CONTACT INFORMATION.
Please return the completed form by Email to the PLA Library.
---
As a friendly reminder, the Peel Law Association Library, Lawyers' Lounge and related services are open to all lawyers who are in good standing with the LSO, articling students, and LPP candidates.
---


Author:
Peel Law Association
About: Established in 1947, the PLA exists to promote, protect and advance the interests of its members by providing resources to enhance the practice of law. The PLA advocates for its members' interests as lawyers, which can impact justice issues that can affect the residents of Peel Region.