Book Spotlight
Posted by Peel Law Association on 24 May 2017
Law and Mind: Mental Health Law and Policy in Canada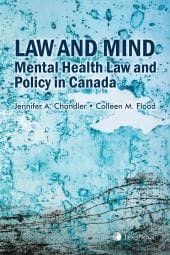 Each week watch this space for our weekly promotion, highlighting one of the books recently added to the PLA Library collection, as well as old favourites we think may be of interest to our PLA Library users.

This week, the spotlight is on the book, Law and Mind: Mental Health Law and Policy in Canada by Jennifer A. Chandler and Colleen M. Flood, which was recently added to the PLA Library Collection.


From the Publisher
Mental health issues pose critical challenges for Canada's systems of justice and health care. Problems with mental health are common, but often neglected due to stigma and the vulnerability of those living with these conditions. This is evident within our legal system. Every day in our courts we see played out the struggle to protect the human rights and dignity of individual Canadians with mental health challenges, to access adequate mental health care and social support, and to provide genuinely helpful responses to criminal behaviour associated with mental health problems. Law and Mind: Mental Health Law and Policy in Canada provides a comprehensive analysis of the most important cases and key debates at the intersection of mental health law and policy.
Written by a group of Canada's leading experts on mental health law, this volume provides practitioners, researchers and policy-makers with valuable insight into this challenging and important area of the law.
Published:May 12, 2016 by LexisNexis

From the Table of Contents
Part 1: Themes and Governance
1. Mental Health and Disability in Canadian Law: Evolving Concepts, Concerns and Responses
2. Fragmented Law & Fragmented Lives: Canada's Mental Health Care System
3. The UN Convention on the Rights of Persons with Disabilities and its Impact on Mental Health Law and Policy in Canada
Part 2: Treatment, Rights and Advocacy
4. From Insight (into Illness) to Incite (a Riot): Consent to Psychiatric Treatment in Canada
5. Involuntary Hospitalization and Treatment in Civil Mental Health Law: Some Controversies and Concerns
6. Community Treatment Orders
7. Privacy Protection and the Confidentiality of Psychiatric Health Care Records
8. Malpractice and Mental Health Care
9. The Governance of the Safety and Efficacy of Psychopharmaceuticals: Challenges and Opportunities for Reform
10. Advocating for Persons with Mental Health Problems: Living Up to the Challenges of the 21st Century
Part 3: Mental Health Care in the Criminal Justice Context
11. Mental Health, Treatment and the Criminal Justice Process
12. Mental Health Courts and Diversion Programs
13. Policing Mental Health Disabilities
14. Mental Health Services in Canadian Corrections
Part 4: Diversity and Vulnerability
15. Mental Health Law for the Old: Defining the Category, Identifying the Issues
16. Mental Health Law and Children
17. Indigenous Peoples and Mental Health: The Role of Law and Policy
18. Race, Culture and Ethnicity in Mental Health Law and Policy
19. Legal Issues Regarding Refugees and Mental Illness

Not a PLA member, but looking to become one? Please follow the links for the membership form, fees, and a full list of PLA Membership Benefits. You may also contact the PLA Library Staff by email, and they will be happy to assist you. It only takes a few moments to join, and the PLA Library Staff can process memberships on the spot. Once payment is received, you can take advantage of all your PLA Membership Benefits, including circulation privileges.
As a friendly reminder, the Peel Law Association Library, Lawyers' Lounge and related services are open to all lawyers who are in good standing with the LSUC, articling students, and students-at-law.

Author:
Peel Law Association
About: Established in 1947, the PLA exists to promote, protect and advance the interests of its members by providing resources to enhance the practice of law. The PLA advocates for its members' interests as lawyers, which can impact justice issues that can affect the residents of Peel Region.