PLA AWARD RECIPIENTS
PLA Lifetime Achievement Award
The Lifetime Achievement Award recognizes the substantial contributions made to the practice of law and the local community by a past or present member of the Peel Law Association. The nominated individual will have held a minimum of ten years of continuous membership with the Peel Law Association. It is the Board's intention to formally recognize members of our own legal community for their years of dedication and service.

* beside the name indicates the award was presented posthumously.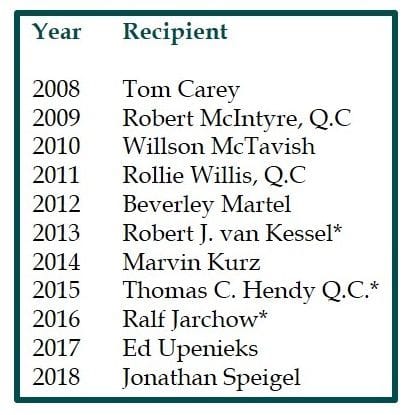 ---

The Ralf Jarchow Community Service Award
In September 2015, while completing a bicycle fundraiser for Peel Memorial Hospital, Ralf Jarchow tragically passed away in British Columbia. Ralf was a founding partner of Prouse, Dash & Crouch, LLP, long time member of the PLA and other local organizations as well as a Peel resident. His involvement, contributions and support to the community were deep and wide spread.

The Ralf Jarchow Community Service Award has been established by the Peel Law Association in recognition of the outstanding contributions and support Ralf devoted toward many organizations in the Peel community.

As a further recognition and celebration of how Ralf Jarchow lived his personal and professional life, the PLA has created this award in order to distinguish a PLA Member's work as a volunteer and/or their service to the Peel community. It is the PLA Board's intention to formally recognize recipients at the Annual General Meeting dinners.