Book Spotlight - December 2020
Posted by Peel Law Association on 7 December 2020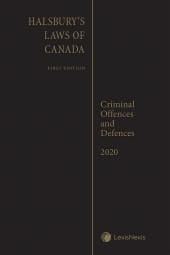 Continue to watch this space for promotions highlighting one of the books recently added to the PLA Library collection, as well as old favourites we think may be of interest to our PLA Library users.
Today's spotlight is on the book, Halsbury's Laws of Canada: Criminal Offences and Defences, 2020 reissue by Alan D. Gold. This title is available for borrowing by current PLA Members in good standing.
Published: August 24, 2020 by LexisNexis.
This volume sets out the law governing criminal offences in Canada, as codified by the Criminal Code of Canada, and the various technical and substantive defences that are available to an accused, either in the Criminal Code or through the operation of common law. Read more.


TABLE OF CONTENTS
I. Introduction
II. Investigative Powers and Enforcement
III. Interception of Communications
IV. Crimes Against Public Order
V. Impaired Driving and Refusal to Provide a Breath Sample
VI. Sexual and Public Morality Crimes
VII. Offences Involving Violence or Threats of Violence
VIII. Criminal Libel and Hate Propaganda
IX. Criminal Negligence and Recklessness
X. Offences in Relation to Family Relationships and Children
XI. Property Offences
XII. Firearms and Other Weapons
XIII. Proceeds of Crime
XIV. Ancillary Offence Provisions
XV. Statutory and Common Law Defences
Please be aware that the PLA Library stacks are currently closed for browsing and are only accessible to PLA Library staff. Please contact the PLA Library for information regarding how to access materials, borrowing privileges and our new late fee policy. *EFFECTIVE NOVEMBER 27, 2020 - PLA LIBRARY STAFF WILL OPERATE REMOTELY BETWEEN THE HOURS OF 8:30 AM AND 4:30 PM, MONDAY TO FRIDAY RETURNING ONE DAY EACH WEEK.
This item is available for signout from the PLA Library to PLA Members only. You may borrow this item for one week (seven days).
Non PLA members are welcome to use this item in the PLA Library, but signout and borrowing privileges are limited to current PLA Members in good standing.
For a full listing of all of the new items added to the PLA Library Collection, please watch for your next issue of Peel Briefs (for PLA Members Only) or take a look at the New Books list for the current calendar year published in the Members' Corner.
---
Not a member, but looking to become one? Please follow the link for the Membership Form and Fees. You may also contact the PLA Library Staff by email, and they will be happy to assist you. It only takes moments to join, and the PLA Library Staff can process memberships on the spot. Once payment is received, you can take advantage of all your PLA Membership Benefits, including discounts on CPD programs and social events.
As a friendly reminder, the Peel Law Association Library, Lawyers' Lounge and related services are open to all lawyers who are in good standing with the LSO, articling students, and LPP candidates.

Author:
Peel Law Association
About: Established in 1947, the PLA exists to promote, protect and advance the interests of its members by providing resources to enhance the practice of law. The PLA advocates for its members' interests as lawyers, which can impact justice issues that can affect the residents of Peel Region.